HIROSHIMA and PEACE Summer Program
TOP
>
HIROSHIMA and PEACE Summer Program
HIROSHIMA and PEACE Summer Program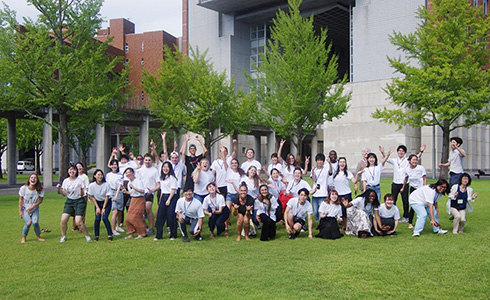 Considering COVID-19, we will organize an online lecture series for summer 2022.
Hope to see you this summer!
Hiroshima is not merely a site memorializing its tragic atomic bombing in the last century, but a dynamic city in the new century, where students from diverse backgrounds can come together to study and discuss issues related to world peace. The aim of this summer course "HIROSHIMA and PEACE" is to provide students with a general understanding of the nature and attributes of war and peace by illuminating various aspects of wartime experiences, including the atomic bombing of Hiroshima, and, at the same time, to explore contemporary issues related to world peace in the era of globalization. In addition to the lectures, the course will feature several special programs, including visits to the Atomic Bomb Dome and Peace Memorial Museum, attendance at the Peace Memorial Ceremony on August 6th, and discussion with atomic bomb survivors.
Both undergraduate and graduate students (in a master's or doctoral program) are eligible to earn credit in the course. English is the medium of instruction, so participants need to have a good command of spoken and written English.
Application Deadline for 2020 summer is March 16th, Mon, 2020, 15:00 Japan Standard time.
NOTE:
Due to COVID-19 pandemic, we canceled our program (in-person) in the 2020 summer, and instead provided a series of online lectures for the 2021 summer. We will maintain both course brochures for the 2020 and 2021, so you will be able to see how our program may look like if it were conducted in-person and/or online. For now, we will place strike-out lines on information that were relevant for the summer 2020 (which was meant to be an in-person program).
We will announce how our summer program will be conducted for the 2023 summer most likely in the 2022 winter.